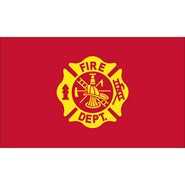 Fire Department Flag
$ 57.00
3x5 Fire Department Flag. 
FREE SHIPPING ON ALL FLAGS!
We've listed common flag sizes here, however we carry all sizes from 12" x 18" all the way up to a whopping 50' x 80'!
Contact Us with any questions, sizes, or special requirements you have.
Our Flags are MADE IN THE USA!
Strength. Durability. Visibility.
SolarMax® fabrics are tough, durable, long-lasting and specifically designed for active outdoor use. SolarMax® fabrics exibit tremendous strength retention under UV exposure as well as world-class tensile and tear strength. Because of its strength SolarMax® fabrics will increase overall performance. SolarMax® fabrics are highly resistant to UV fading, allowing the use of deeper, brighter colors that will last over time. In addition, SolarMax® fabrics offer better wash fastness and light fastness than other nylons of similar fabric construction, so they will retain their good looks long after the competition has called it the day.